Friday, June 15 - Sunday, June 17, 2012 -- Green Bank, WV / NRAO - Green Bank, West Virgina
National Radio Astronomy Observatory Space Race Rumpus
(iPO Event Id#: 13826
)
This first annual Cycling festival is an event the whole family can enjoy! Hosted by the National Radio Astronomy Observatory (NRAO), this unique cycling festival is located at the home of the world's largest steerable telescope, the Robert C. Byrd Green Bank Telescope, or GBT as we call it around here.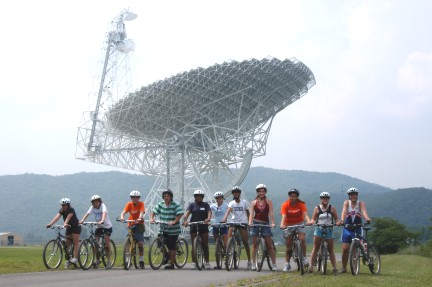 The Observatory is located in beautiful Pocahontas County with some of the most scenic roads and trails in the mid-Atlantic. The Space Race Rumpus routes explore both the Observatory's unique property and the surrounding area.
Over the weekend long event you can participate in guided rides -- for both mountain and road enthusiasts -- and compete on a cyclocross course right next to eight radio telescopes, including the 485-foot tall GBT. There will be rides and races for all ages and levels, as well as cycling clinics and vendors.
2012 Registration
[ Register Online ] at BikeReg.com for single- or multi-day passes. Your registration includes:
a t-shirt
cycling clinics by experts
race/ride support
post-race/ride refreshments
kids' activities/day care
a campsite and bathhouse facilities (with multi-day pass)
live music by The Steel Wheels
movie showings
festive bonfires
2012 Sponsors
West Virginia Tourism ... Dirt Bean ... Joey's Bike Shop ... Snowshoe Mountain ... Pocahontas County ... National Radio Astronomy Observatory (NRAO)
All proceeds of the Space Race Rumpus will help the community build a Wellness and Fitness Center in the Green Bank area!
Start Date:
2012-06-15
Start Time:
8:00am
End Date:
2012-06-17
Event Name:
National Radio Astronomy Observatory Space Race Rumpus
Location(s):
Green Bank, WV 24944
NRAO - Green Bank, West Virgina
Event Type(s):
Bike
MTB
XC
Road
Cyclocross
Tour/Ride
Clinic/Training

Event Distance(s):
5mi 10mi 20mi 40mi 100mi
Contact(s):
NRAO Green Bank Science Center
Phone: 304-456-2150
Email: gbt-tours@nrao.edu

Affiliate(s):
Comments:
Offsite URL:
www.gb.nrao.edu/rumpus